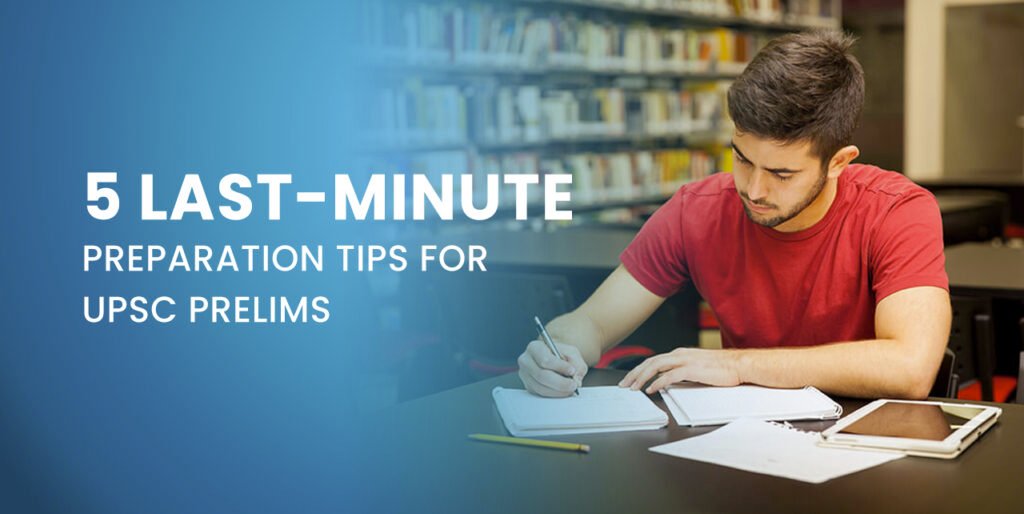 Cracking the UPSC exam is not everyone's cup of tea as the competition is very high and it needs a lot of preparation to outshine the exam. Initial preparation and last-minute preparation both are equally important for all types of examinations.
Therefore, keeping in mind the importance of study management and shortage of time, here are 5 last-minute preparation tips for UPSC Prelims.
1. Revise the Important Topics and Notes:
When the exam is just around the corner, don't look for new topics and concepts to study as it will waste your time. Whatever important topics you have read till now, take notes of it, and revise properly.
2. Learn to Manage Time:
Time management is a very important factor to excel in any exam, therefore know your strength areas and focus on that. Try to solve each question within a minute. Don't stick with a particular question, if you are not sure about the answer, just move to other questions. Always keep a track of time while self practicing and during the examination.
3. Practice Mock Test and Previous Year Paper:
UPSC aspirants need a lot of practice, therefore it is always suggested to practice mock tests as much as possible. Mock tests practicing will help you to get a better understanding of the exam pattern and help you to solve previous year questions to enhance your paper solving speed.
4. Increase your Speed:
Your speed plays a vital role in clearing the UPSC and the IAS exam. Hence, you need to be aware of your speed and need to practice a lot to increase it. For speed tests, online mock tests are very helpful and if you will do it regularly it will help you to increase your speed.
5. Check your Health and Essentials:
Many aspirants panicked at the last minute and forgot all the essentials due to anxiety which is natural. But one must take care of their health, and essentials. Eat healthy, meditate, and have enough sleep. Keep your ID proof ready and all other essential items with you
Conclusion
Hope this article will help you with your last-minute UPSC Prelims Exam preparation. Just relax, stay calm and be confident.
Good Luck with your exam! If you are looking for any kind of guidance for your UPSC preparation, you can contact us. We are one of the best UPSC coaching institutes located in Guwahati, Jorhat, and Jaipur.