Who Was Lachit Barphukan? [1622-1672]
Lachit Borphukan was the greatest general of the Ahom kingdom who defeated the royal army of the Mughals despite leading a much weaker army during the Saraighat Battle in 1671. Lachit was born to Momai Tamuli in 1622 in the Ahom Kingdom, which ruled Assam for 600 years from 1228-1826. The Ahom King Chakradhwaja Singha selected Lachit Borphukan to command the expedition against the Mughals and appointed him as the Borphukan in 1667. Prior to his appointment to Borphukanship, he also had held the offices of Baruas and Phukans.
The Battle of Saraighat
Despite being half of the Royal Army, Lachit's clever war strategy- including naval and guerrilla warfare, devastated the huge Mughal troopers. The Battle was planned primarily by exploiting the sole weakness of the Mughal forces—it's navy. Despite being physically ill Lachit led the Ahom army till regaining total control of the war. This was named one of the greatest and the most historic military victories against the Mughals ever.
The Battle of Saraighat was the last major attempt by the Mughals to extend their empire into Assam. Though the Mughals managed to regain Guwahati briefly later after a Borphukan deserted it, the Ahoms wrested control in the Battle of Itakhuli in 1682 and maintained it till the end of their rule.
In order to immortalize the legacy of this braveheart, the National Defence Academy confers 'Lachit Borphukan Gold Medal' every year to the best passing out cadet since 1999.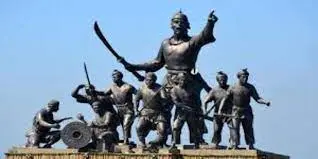 Why Lachit Divas Is Celebrated in Assam
November 24 is celebrated as Lachit Divas in Assam to commemorate the heroism of Lachit Borphukan and the victory of the Ahom Army at the Battle of Saraighat.